Beaches
Skyros is famous for its sandy beaches and all around the island; coastal settlements are examples of beauty and deep blue sea.
Almost beneath Chora, the continuous long beaches at Magazia and Molos, at Pouria and a little further at Girismata and Kareflou, are the ideal choice for those seeking sandy beaches with umbrellas, beach bars, cafes and taverns.
North of the island you will find Peukos, a long sandy beach that is surrounded by pine-covered slopes, interspersed with pieces of the old marble quarry. It has stones and sand. The small beach of Agios Fokas, has small pebbles, fallow farmland behind it and low shrubby vegetation. Atsitsa, a pebbled beach, considers the most picturesque beach of the island.
Acherounes is a seaside village on the west side of Skyros, almost next to Linaria. The beach is sandy with shallow water and you will find, along, some cafes.
Aspous beach with small pine trees on the side, is sandy and located in central Skyros, while the longest and most popular beach (east) Kalamitsa has pebbles and is the favorite destination for wind-surfers. After Kalamitsa there is the sandy and deserted beach, Kolibada and well beyond Renes beach with pebbles.
The barren and rocky, south part of Skyros hides sea caves with stalactites and emerald waters, deserted islands accessed only by boat and untouched beaches. Glyfada has sand and azure waters, while at one end of it gushing fresh water, because of that it got its name.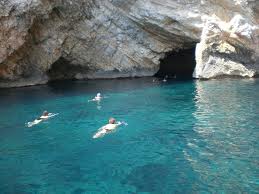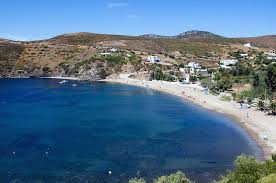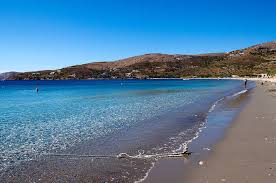 Gyrismata Beach
On the northeast side of the island, there is the gorgeous beach "Gyrismata" with the homonym village. The natural beauty and topography of the area will impress you, providing a peaceful setting for your relaxing vacations in Skyros.
Atsitsa Beach
Atsitsa is a majestic, picturesque beach with both pearly pebbles and white sand. Located in an enticing area ample of pines, entails also an isolated port. It is easily accessible by car, in a distance of 18km from the Chora of Skyros.
Beaches